Backdrop
The maternal and child health scenario in Andhra Pradesh and Telangana calls for an urgent need of action. The Maternal Mortality Rate (MMR) of AP and Telangana is 92 which is high compared to other states such as Kerala (61), Maharashtra (68) and Tamil Nadu (79) (SRS 2013). Maternal mortality is largely preventable and mothers who received financial assistance under Janani Suraksha Yojana (JSY) for births delivered in an institution were only a pitiful figure of 10.2% in both AP and Telangana (NFHS-4). AP and Telangana states have the 5th highest number of new born deaths in country and infant and child mortality rates are less compared to the national urban average but are much higher compared to Kerala, Tamil Nadu and Maharashtra.
The findings of the studies in Nepal, Bangladesh, Chhattisgarh, Bihar, reveal that SHGs in rural areas played a major role in implementing Behavioural Change Communication strategies and brought significant changes in socio-cultural factors, maternal child health seeking behaviours and reduced the incidence of IMR and MMR. Urban poor women tend to have adverse maternal and child health outcomes when compared to those of rural women. But very few studies were conducted in urban areas to assess the effectiveness of urban SHGs in improving the MNCH outcomes among poor.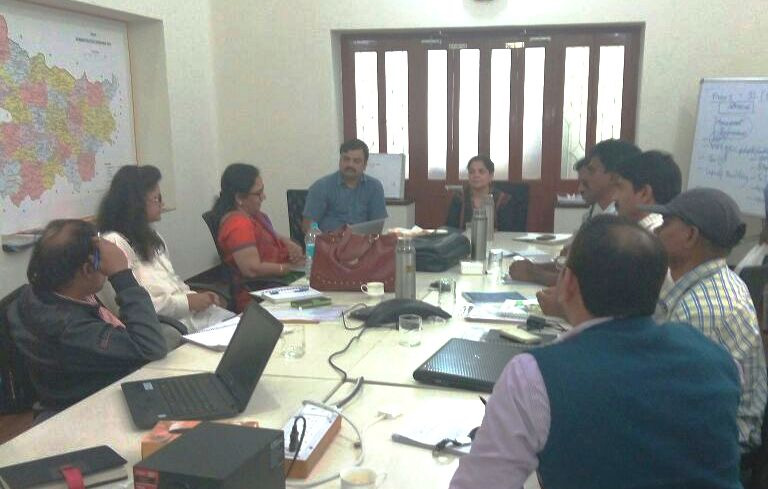 Interaction with PCI Staff at Bihar
---
Project Info
Goal :
To learn, develop an evidence-based set of intervention packages or models, assess the effectiveness of the appropriate model/s in urban settings for working with women SHG institutions in improving MNCH knowledge, skills and practices in three selected towns of two states (Andhra Pradesh and Telangana).
Project Objectives
Location : Ongole & Tirupati towns in AP & GHMC, Hyderabad, Telangana
Communities : SHGs/ SLFs, pregnant women & lactating mothers & their families
Out Reach : 48000 households covering 4800 pregnant and lactating mothers in three locations.
Period : August 2016 to July 2019
Policy Environment : This MNCH project contributes to the state & national goals in achieving the Sustainable Development Goal (SDG) 3 in terms of reducing MMR to less than 70 per 100000 live births; reduce neonatal mortality to at least as low as 12 per 1000live births and under 5 mortality to at least as low as 25 per 1000 live births. This project also contributes in achieving SDG 5 – to achieve gender equality and empower all women and girls.
This project contributes to achieve SDGs 3 & 5; Good Health & Well being and Gender Equality.
---
Major Activities and Achievements
A series of meetings were held between APMAS, IHD and BMGF on building conceptual clarity of the action research project and developing a road map for the formative phase. Field visits were made to different location in the states of Andhra Pradesh and Telangana and held discussions with SHGs and their federations as well the officials from MEPMA, GHMC, Municipal authorities and WCD. The major activities carried out and outcomes achieved during the formative phase are given below: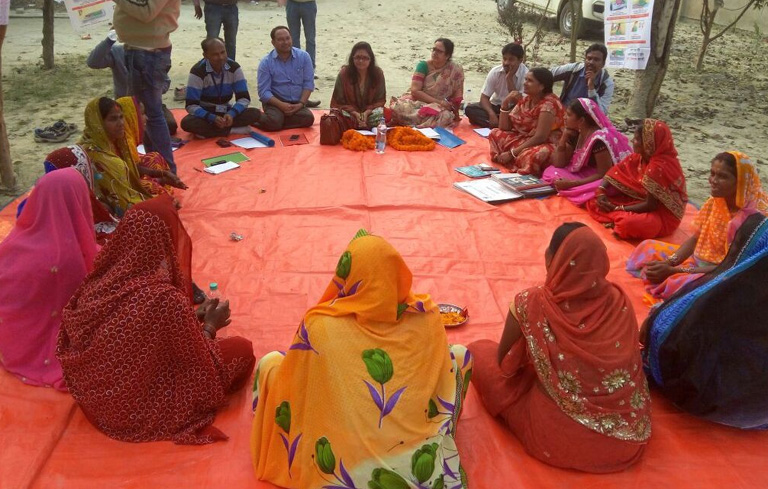 Interaction with SHG Members at Bihar
---
Project Phases : The action research project has three distinct phases to ensure scientific design of the project, systematic implementation by documenting lessons learnt and research based evidence for wider dissemination of the results.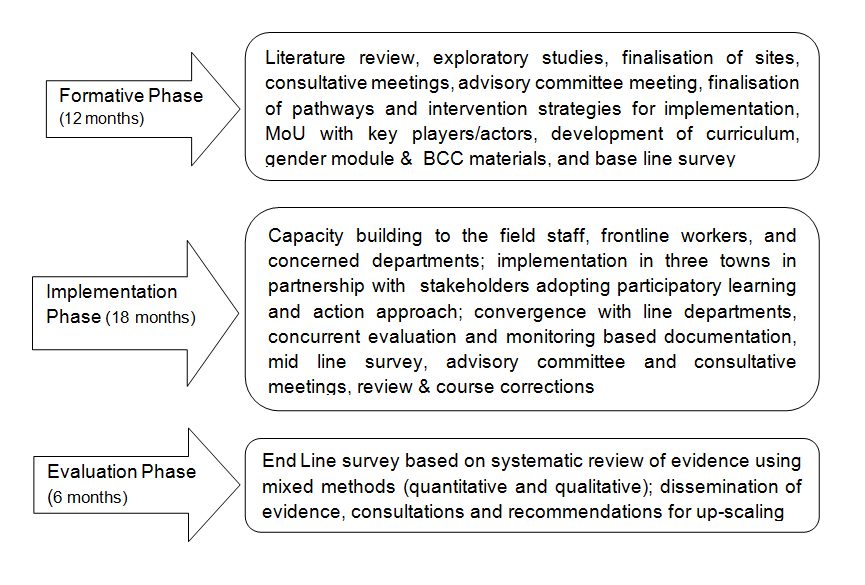 ---
Constraints and Challenges
---
Way Forward
The formative phase findings resulting re-defining the theory of change and pathways as relevant would lead to phase wise intervention. The implementation phase will primarily adopt the Participatory Learning and Action cycles and the behaviour change communication (BCC) tools. The implementation begins with the recruitment and training of the field team (health facilitators, mentors & master trainers) and the front-line functionaries (ASHA, Anganwadi teachers, ANMs), health CRPs and SHG leaders.
Photos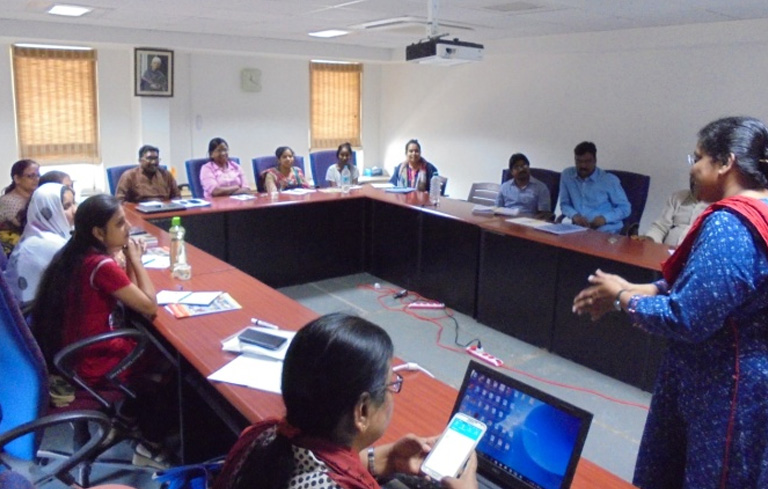 Training to Research Teams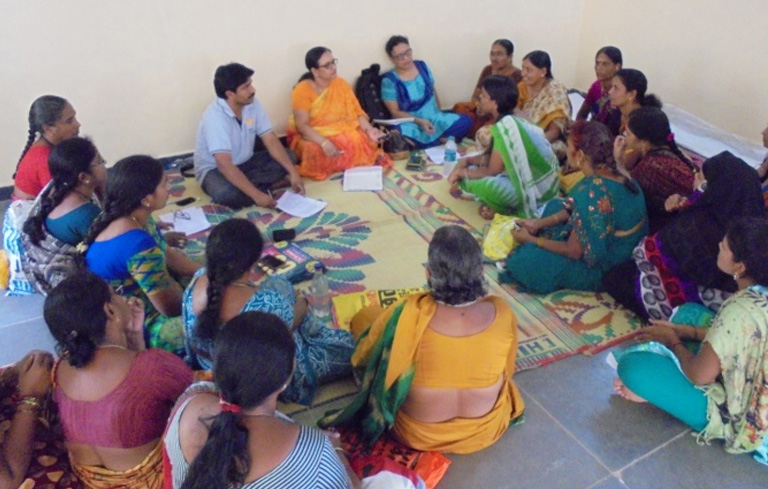 FGD with SLF Members at Blind's Colony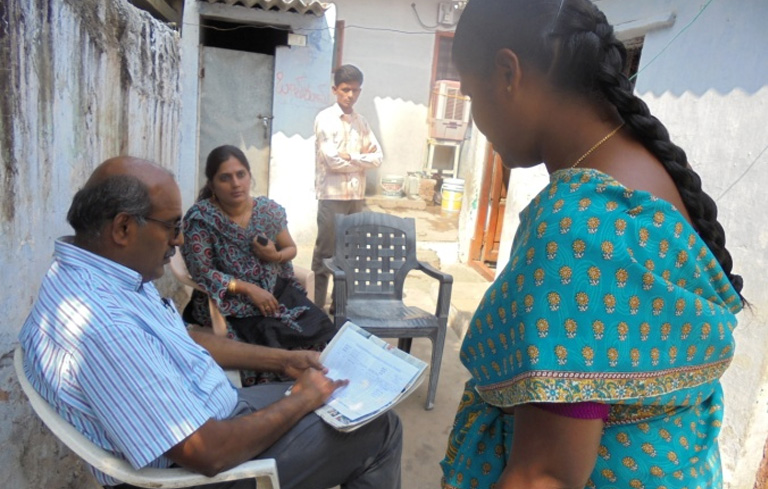 Verification of Records at Anganwadi Centre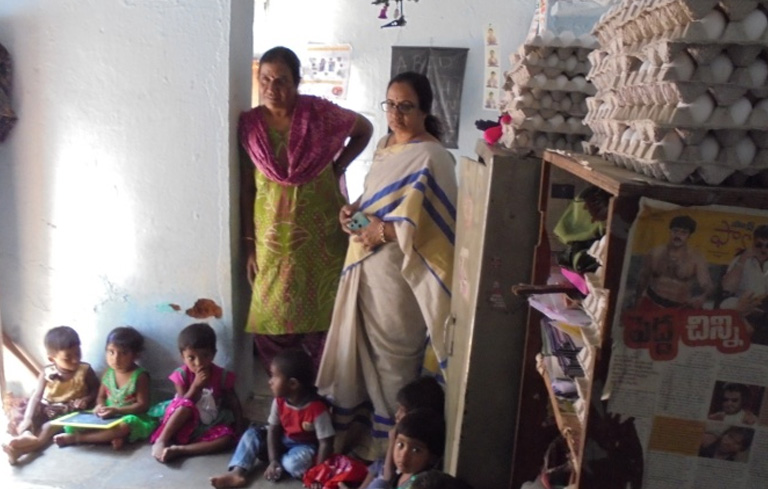 Observation of Activities at Anganwadi Centre