Community Water Quality Monitoring – Unique & Innovative Approach
The programme was launched by Hyderabad Metropolitan Water Supply & Sewerage Board (HMWS & SB) in May 2011 by initiating the participation of SHG community members in testing the Residual Chlorine sample of piped water supplied by Hyderabad Metro Water Supply and Sewerage Board (HMWS & SB) source at the time of delivery in slums. For this purpose, the Self-help group members were trained, and provided suitable equipment (Chloroscope) for testing at their locality along with a small honorarium of Rs.500/- per month (current honorarium increased to Rs. 1500/- per month). The programme was taken up in collaboration with Mahila Abhivruddhi Society (MAS), an organization facilitating technical support for SHG movement in India especially in Telangana. About 100 Self help group members monitor the water quality in different parts of Greater Hyderabad and send results through SMS on a daily basis as soon as testing is done.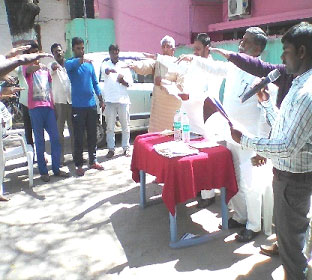 ---
The programme has been running successfully since its launch and the communities in the slums areas are happy, recognizing the improved quality of piped water at present. Many residents of the slums expressed a positive opinion about this initiation. They were also happy to do this job as it brings them good recognition from the community, as well as a small honorarium which is paid regularly.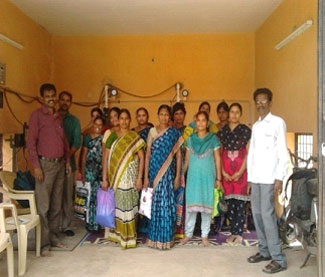 MAS is providing its support for the continuity of the programme and makes regular field visits and provides constant encouragement to the communities. Initially there were around 400 SHG members who were trained by HMWS & SB and MAS. But recently we have observed that the membership has declined slowly due to insufficient honorarium during 2014-15, now, however with revised efforts from the organisation the members are doing their jobs with reinforced commitment. Currently about 100 SHG members are testing the quality of water at various delivery points in different parts of Greater Hyderabad (around 107 slum areas) and send the results by SMS on daily basis as soon as testing is done. The SMS's sent by Volunteers were only 250 on an average per day up to 2015-16, currently the number of SMS sent have increased up to 450 per day.
---
The volunteers are trained in water quality testing and are doing a satisfactory job. Whenever the water quality is found to be unsatisfactory, the IT section is informed immediately and the HMWS & SB staff rush to the areas and the issue is immediately resolved. In 2016-17 alone, 28 major field issues were resolved.
The community members' participation has also increased due to CWQM system and so has their awareness of the water supply channel, and the measures taken up to ensure the water quality at various stages. They have also developed a trust for the Board and its functioning to ensure supply of safe drinking water to all the areas. The CWQM programme is an innovative approach and it is well appreciated by everyone. Now volunteers are showing more interest after their remuneration increased from Rs.500 to Rs.750 and to current amount of Rs.1500 from the year 2016 -17 onwards.
---
Besides water quality monitoring, the following events were also held: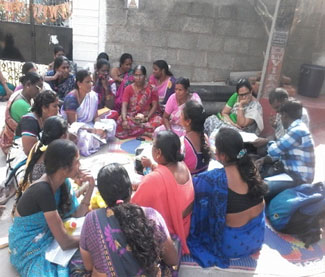 ---
Constraints
Photos