Member-Control and Self Reliance for Sustainability of the SHG Movement
Background
SHGs were first promoted in the 1980s in Andhra Pradesh. Rural women who are significant players in the economy were, earlier, neither thought nor spoken of as creditworthy, however with the proliferation of the SHG model in the countryside, several rural communities denied of credit for years, now have easy credit flowing into their villages to all the communities. The hitherto invisible and voiceless rural woman was suddenly being wooed by political parties, not as a puppet to be manipulated, but as a local leader who was articulate and courageous, and would stand up for what she believes. This has been possible only due to the presence of several SHGs and their Federations. This movement has given the much-needed visibility and projected the women on a platform leading to not only their empowerment but also the families and the communities as a whole.
However, there are few grey areas in SHGs and SHG federations on which focus needs to be given in order to make these institutions more sustainable. One major focus area shall be on the promotion of sense of ownership among stakeholders and reducing the dependence on external agencies and agendas.
---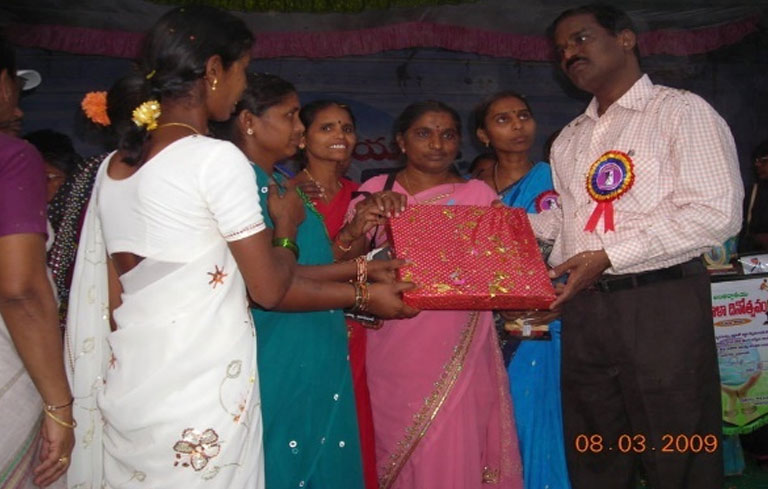 Bikanoor MS receiving AWARD from District Collector
MAS Interventions
MAS always believes that underlying issues can be corrected and members can be encouraged to increase their financial stake and take over ownership responsibilities, so that the movement progresses, and does so sustainably. We, in MAS, believe that the future of SHGs and their federations lies in increased member control over the movement resulting in long term sustainability. To this end, MAS, in close association with Society for Elimination of Rural Poverty (SERP), has begun a pilot project following a participatory approach in six mandals of the Kamareddy cluster of recently formed Kamareddy district in Telangana covering 6337 SHGs, 279 VOs and 8 MSs.
---
SOC Pilot
MAS with technical and financial support from DGRV has been making efforts to consolidate and up -scale Sector-Own-Control (SOC) within Telangana, Andhra Pradesh and other parts of the country. Till date substantial progress has been made towards achieving the objectives initially envisaged. In addition, to the existing objectives, MAS has started supporting four Self-Help Promoting Institutions (SHPIs) in other states for operationalizing the concept of SOC in their respective operational areas. MAS also started utilizing services of Community Resource Persons developed by Kamareddy Paryavekshana Samakhya (KCPS) to support and strengthen SHGs and their federations in other states.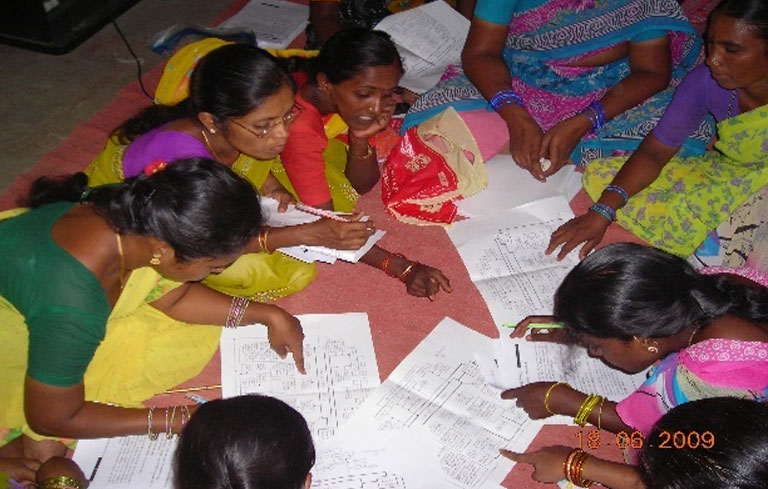 Test course with community members at Kamareddy Mandal
---
GOAL
Develop Self-reliant, Self-Managed and Sustainable Self-Help Institutions
Objectives
| | |
| --- | --- |
| Location | Kamareddy in Telangana & up-scaling across the country |
| Donor | DGRV, Germany |
| Project Period | January to December 2017 |
| Partners | SERP, SHIPs, SRLMs, NRLM |
| Outreach | 8 MSs, 279 VOs and 6337 SHGs in 8 Mandals |
The SOC project contributes to the SDG 5 -Sustainable Development Goals);to achieve gender equality and empower all women and girls.
---
Vision, Objectives and Strategies of KCPS
Key Achievements
KCPS Vision
Facilitate SHGs and SHG federations into financially prudent, profitable, socially responsible institutions for socio-economic development of their members on sustainable basis
---
Major Activities and Achievements
The highlights of achievements in the journey of KCPS till date
| | | | | | |
| --- | --- | --- | --- | --- | --- |
| Activity | SHGs | VOs | MS | Social Capital Developed | Units |
| Elections conducted | 4736 | 279 | 05 | Supervisors | 32 |
| Annual Planning held | 4615 | 279 | 05 | Resource pool | 22 |
| General Body meetings held | 4736 | 279 | 05 | SHG auditors | 442 |
| External Audit (first) done | 5191 | 279 | 05 | Facilitators | 225 |
| External Audit (Repeated) done | 4836 | 279 | 05 | SHG BKs | 2070 |
| Interest on Savings | 4836 | 0 | 05 | CRPs(other states) | 105 |
| Internal audit of VOs (Quarterly) | 0 | 243 | 05 | No. of exposures organised | 92 |
| Awards | 228 | 92 | 02 | Visitors from No. of countries | 15 |
| MIS | 5669 | 279 | 05 | Visitors from No. Of states | 22 |
| Financial Literacy Centers | 4615 | 169 | 05 | No. Of Visitors | 1856 |
Besides the KCPS has been involved in the following major activities:
---
The following committees have also been formulated as part of SOC activities to achieve its vision and objectives:
Co-ordination Committee: Office bearers of all the six MSs in the cluster are part of this committee, which focusses on developing strategies and propagating the self-regulation process. This committee guides the mandal level federation in developing and establishing internal control systems.
Advisory Group: An advisory committee was formed with representation from IKP and MAS which provides its support through material/module development, organizing capacity and knowledge building trainings and exposures, propagating self-audit and assessment procedures.
Co-ordination Committee and Think Tank: The Co-ordination Committee meets once every two months, to review progress. A think tank of all the Executive Committee members of all the six MSs, also meets once every four months to review working drafts prepared by the Advisory group. Through the review, conclusions are arrived after intense debates and final publications are given to MAS which publishes the materials. Some of the drafts reviewed include internal and external audit of SHG federations and annual plans.
Structure of SOC Project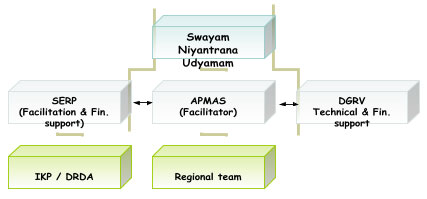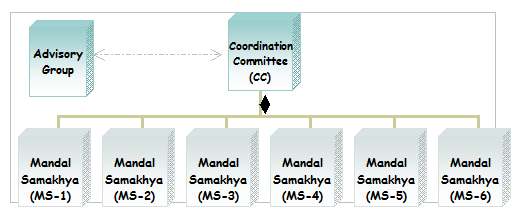 ---
Package of Resource Materials
Book No.

Book Name

1

The significance of Savings

2

The significance of Loans

3

SHG Bookkeeping

4

Reconstruction of Accounts in SHGs

5

Guidelines and checklist for SHG External Audit

6

Annual Planning for SHGs

7

Federation Bookkeeping

8

Federation Internal Audit

9

Federation External Audit

10

Election Process in SHGs and Federations

12

Annual planning for our Federations

11

The Best Performance Awards

13

Understanding Financial Statements

14

Surplus Management in SHGs and Federations

15

Fixation and calculation of interest in SHGs

16A

Management Information system in SHG

16B

Management Information system in Federation

17

Model annual planning of SHG & Federation

18

Financial management in federations

SOC video film avail in Telugu, Hindi and English language
SOC posters: set of posters (seven posters)
Constraints and Challenges
---
Way Forward
When MAS first began its work in the cluster, it of course, expected a reasonably good response, but was quite surprised by the innate competence and capabilities of the women. Their thirst for knowledge, their joy in dealing with complex issues of election management, reconstruction of accounts, audit, arriving at weightages for performance standards, reviewing financial statements, and so on, have been truly inspiring. It is necessary that the SHG members and SHG federations agree upon the need for SOC, declare their willingness to accept ownership, and be willing to implement SOC effectively. With this in view, MAS started the pilot with SOC capacity building. Now SHG-members and federation are sensitive towards SOC issues and, therefore, ready for further development and implementation.
MAS is conscious that it has a long way to go before it can declare the intervention 'successful', but it is also aware that it is on the right track, that this is work worth undertaking, that the rural woman wants to be in the driver's seat and is capable not just of driving, but also of manoeuvring through obstacles that may come her way, that her intelligence and dedication to making the world around her a happier place for all need to be nurtured and brought to fruition. It is for this reason that MAS is choosing to share, even at this early stage, its thoughts on and experiences in Sector Own Control.